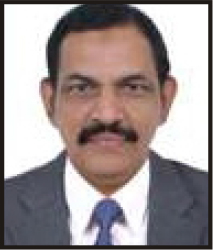 Er. N T Nair
Trustee
Nair has a Master's degree in Applied Electronics, and decades of experience in Electronics, Electrical and IT fields. While at CMS Computers, he worked at developing pre-paid energy metering systems, Traffic management systems, etc. His magazine, Executive Knowledge Lines (EKL), available in print and web versions, is well-received by the professional community and elite public as a sought-after source for information on emerging trends in technology, management, healthcare, etc.
Mr Nair has many technology firsts to his credit:
In ER&DC, he developed India's first microprocessor-based Attendance Recording System, consisting of hardware and attendance management software, now well- commercialised
India's first cable TV highway – through the Kerala State Electricity Board's electricity poles – was launched for Asianet Satellite Communications
Country's first GSM-based pre-paid energy metering system, using advanced electronic technologies to cater to 200+ industries of an Industrial park
Electronic Temperature Monitoring and Alerting System for tile factories and glass industries of Firozabad (UP) to improve efficiency of operations
Computer-based Area Traffic Control system for New Delhi, with monitoring and control functions, for efficient and optimal movement of vehicles.
Mr Nair delivers lectures on a number of topics of contemporary relevance, including (but not limited to):
Technology Trends –A Quick Look
R&D –Creating Value Through Innovation
Biomimicry –Innovation Inspired by Nature
International Volunteerism –Ethical Practices
Technology Management
Harnessing Renewables –With Care for Ecological Sensitivities
Frugal Engineering
Technical Writing
Smart Metering –Electrical Utilities and Consumers to Benefit
Mass Storage of Electricity– To Cater to Renewables Sector
Citizen Science– Volunteering of Time by Public for Research
Disruptive Technologies –Courtesy: Clayton Christensen, Harvard Business School Drive Your Own Passion – Not Somebody Else's
Positions:
Life Senior Member, IEEE (World's largest professional society of Electrical and Electronics Engineers)
Member: Life Member Committee, IEEE 2015