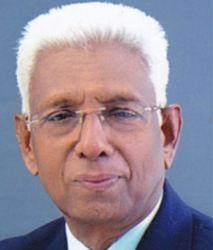 Prof. V K Damodaran
Trustee
With over 55 years of professional experience since 1962, almost equally divided into teaching, industry & techno-managerial positions, and in fields including international consultancy, Prof. Damodaran is well-connected within the public and private sectors in the energy and environmentalfields (amongst others) in India, China and several countries in Africa. He is well-known as an institution builder, having remarkable experience in energy development, energy policy formulation, science and technology, and R&D management including technology assessment and humanitarian technologies for over 30 years.
Prof. Damodaran's work with UNIDO, UNEP and UNDP in several countries of Africa, south Asia, and in China focused on catalysing technology solutions by the people, in addition to promoting innovation and entrepreneurship efforts in governmental and non-governmental organisations in India.
Prof. Damodaran is a persuasive communicator, conference speaker and author, editor, and contributor of several books and periodicals related to science, technology, energy and Environment; he has published hundreds of articles in Malayalam and in English, and has served as a frequent broadcaster on All India Radio for 50 years. He spent study fellowships under UNESCO in Thailand, Malaysia, and Singapore (1985); under Asian Productivity Organization in Japan (1990); and under UNIDO in China and Germany (1992-93).
Fellow: Institution of Engineers (India)
Hon. Fellow: Society of Energy Engineers and Managers India
Hon. Fellow: Laurie Baker Centre, Trivandrum
Life Senior Member: IEEE (New York)
Chairman: Foundation for Advanced Clean Energy Studies (FACES)
Director, R&D and Training: Team Sustain, Kochi
Hon. Director: Cochin Waste 2 Energy Company (Developing a pollution-free solution to waste disposal)
Member: IEEE 2017 Life Members Committee (New York)
Member: Educational Products Editorial Board (IEEE Educational Activities Board) 2017
Global Meritorious Achievement Award 2014
Educational Activities Board of IEEE (New York)
Asia Pacific Historical Achievement Award 2012
For outstanding contribution to the electrification of rural off-grid communities in Africa using Hybrid Renewable Energy Technologies
Third Millennium Medal 2000
IEEE
Management Leadership Award and Gold Medal 1999
Trivandrum Management Association